I've been doing a huge amount of reading on endurance sports recently (mainly cycling, but also running and swimming and triathlon) so it occurred to me that I should probably write a brief book review when I finish books from now on. So here's my first one!
I was in Barnes and Noble the other day and saw "Age Is Just a Number" in hardback on the discount rack for $4.99. Seemed like a bargain, so I picked it up along with Johan Bruyneel's "We Might As Well Win" for the same price (more on that one once I've finished it!).
Don't judge a book by its cover....
For those of you unfamiliar with Dana Torres, she is the American sprint swimmer who made two Olympic comebacks after her original Olympic appearance and won medals each time, most notably at the age of 41 in the 2008 Olympics in Beijing. I have always admired her and I was looking forward to reading the book, which was co-written with Elizabeth Weil of the New York Times. Unfortunately, I was ultimately disappointed......
I understood going in that this was an autobiography, with focus on "the comeback years". What I expected (and wanted) was an inspirational tale with lots of insight in to how she managed such an amazing feat, but this is where I felt the book fell flat. It just didn't do it for me and I found myself thinking of her as a little "strange". Dana's troubled relationships with both of her husbands is glossed over and I can't help but think that these
must
have had some material impact on her decisions and motivations. Her second husband (her dying father's physician) barely gets a mention and the father of her daughter is essentially relgated to just a name. Her relationships with her coaches are discussed in a little more detail, but I still found the book lacking in this area. She somehow made things sound like a giant tea party, but there's no way it can always have been wine and roses. The competitiveness and "bitchiness" between swimmers is there, but again it's as if she's trying to brush this under the carpet. There is some detail of the sort of workouts she was doing, but not all that much. The fact that Dana used some sort of a psychic as part of her training routine turned me off big time. I found the whole thing shallow and somewhat selve-serving. Yes, I'll be honest, I wanted more suffering!
The one area that I found somewhat interesting (as an "older" athlete) was her description of changes she made to her diet, supplements she took, how she changed her rest strategies and so on. I was also very interested in her stretching routines and the fact that she paid two "stretchers" to accompany her to China for the Olympics.
Pre-race stretching - looks painful!
Unfortunately I didn't derive an ounce of motivation from the book, which was disappointing. I wanted to like her, but somehow I couldn't.
Just my $0.02 - take it for what it's worth.
Now that I have somewhat panned the book, I have to say that she is an incredibly impressive athlete and what she achieved (losing the gold medal in the Olympic 50 M feestyle by 0.01 second at age 41) is so very impressive.
I also have to say that she's in pretty damned good shape for her forties! :-)

Wish I had those abs!

Posing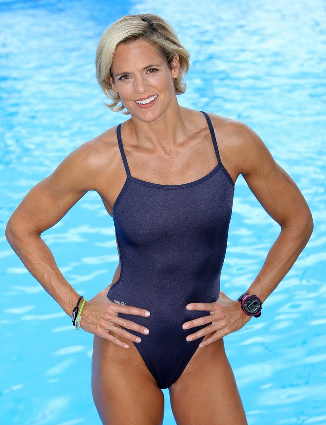 .