When I did my first triathlon (Outer Banks Sprint in September of last year) it was really all about the experience. I wanted to see what this "triathlon thing" was all about; to get some specific race experience; to enjoy myself and, yes, to finish. The same was true, to a large extent, at my second sprint tri a month later. At this point I was hooked and decided to try to get serious (and fit!) and hired The Puppeteer last December.
Since then my focus has changed a bit to "competing". Primarily with myself - improved performance over time - but also wanting to put in a reasonable showing in my age group category. I'm not delusional - I have a long way to go before I can beat many of the highly experienced and super-fast age groupers out there - but I think that I can be "competitive" over time. Since the White Lake Sprint tri back in May, however, I have been thinking
a lot
about my mental approach and getting serious. I have started to apply myself and to push more in my training and now I'm determined to go into Sunday's Triangle Tri with a new and tougher attitude.... I'm going to
race!
Interestingly The Puppeteer sent out a message to all of her athletes this week about
racing
and leaving it all out there on the course - ideally "tossing your cookies" as you cross the line because you've given everything you have!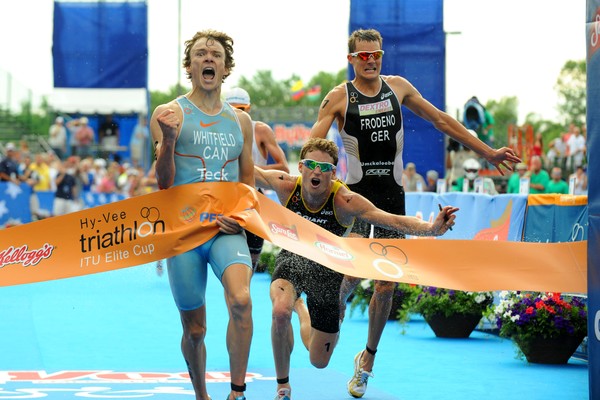 Racing.....

What does all of this mean? It's nothing particularly to do with your physical fitness - it's about mental toughness and grit. Pushing for every last ounce of peformance, no matter that it hurts. The pain is only temporary! Instead of competing with yourself, or against the course,
racing
is about beating other participants. Getting to the line before that other guy. I think that this is particularly true in sprint distance events. In the long events you have to worry more about proper nutrition and pacing and keeping yourself healthy so that you can get to the finish line ahead of the next guy - you may not see your rivals for long periods, but in a sprint it's much more akin to side-by-side racing and very often those other guys in your age group category (not to mention all sorts of other competitors) are in you line of sight.
For me it means really focusing and it will be somewhat of a challenge for me this weekend as I can't afford to go "Balls to the Wall" on the swim - I need to pace myself and not get crazy and make it to the first transition in reasonable shape. Once I'm on the bike. however, I need to lay it on the line and start chasing people down - even more so when I'm on the run. It's only sprint distance and there is absolutely no point in leaving anything in the tank! On top of this, we are all going to have to find our way to push ourselves through the heat and humidity on Sunday. It's mental, mental, mental..... have to push harder....
Have I got it? We'll see, but I'm determined to go in with the right attituude and give it hell! My age group is one of the last groups to go out in the wave starts, so there should be no shortage of "targets" out there. As The Puppeteer puts it... "race fearless!"
The Puppeteer's new recruiting poster?