The Snitch and family have been visiting us on the Outer Banks and The Puppeteer had us scheduled for a long ride together. We decided to head south from Nags Head to Oregon Inlet before deciding whether to take on the traffic on the Bonner Bridge and heading further south onto Hatteras Island.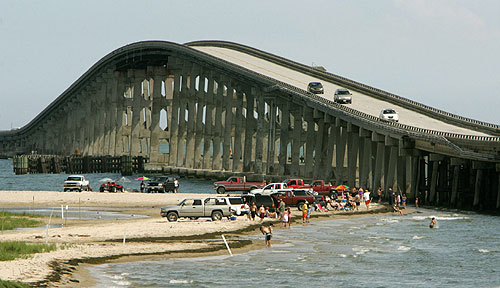 One of the few "hills" on the Outer Banks....

Traffic was light and we cruised down to Oregon Inlet averaging 20 mph plus with a slight north westerly tail wind.
The Snitch at Oregon Inlet Fishing Center

After stopping for a quick drink we decided to "go for it" and head further south over the bridge. Traffic remained light and our primary obstacles were a few dead seagulls and, for some strange reason, numerous baseball caps at the side of the road! The bridge is a couple of miles long and we enjoyed a spectacular view from the top.
If you squnint you can see The Snitch!

The wind continued to be slightly at our backs and we decided to make it a 50 miler and continue down the Cape Hatteras National Seashore across Pea Island and as far as Rodanthe (of Richard Gere movie fame) before turning for home.
Wide open roads....


Tried to use my phone to snap a picture of The Snitch behind me as we were riding. First attempt wasn't too accurate.....
Nice sky though.....

Ahhh, that's better......
.....and one from behind just to prove that The Snitch did "pull" occasionally :-) .....
Once in Rodanthe we stopped for a drink at a gas station before heading north again.
Holy Cow! What a difference on the return leg! The wind had strengthened and shifted so that it was coming from roughly due north - right into our faces! After comfortably cruising south we now had to really work coming home again and were struggling to hold 14 mph at times. The smoke from the Stumpy Point fire didn't help but we eventually made the return crossing of the bridge and pushed our way back to Nags Head. Another 50 miler in the books!