So this past weekend found us enjoying the Memorial Day holiday weekend in Nags Head on the Outer Banks of North Carolina. In addition to a voluntary open water swim, The Puppeteer had me scheduled for two rides and a long-ish run over the course of the weekend.
First the bike. It's pretty much dead flat down there on a sand bar in the middle of the ocean - not a hill in sight - so it should be nice and easy, right? WRONG! It is
always
windy down there (see my previous posts on "wrestling with The Slut" and an epic ride to Rodanthe with The Snitch last summer) and given that you basically have the choice of riding north or riding south, you are pretty much guaranteed to find yourself dealing with either a good head wind or a problematic cross-wind on every ride. When the wind picks up to more than 15 knots (which is often!) maintaining a good aero position is essential and, even then, it's pretty much like riding in to one of these:
This weekend was no exception and on Saturday the edge of Tropical Storm Beryl was making for on shore winds and some occasionally ferocious gusts.
But what really makes riding on the Outer Banks tough (with wind or without) is the relentlessness..... When riding over more hilly terrain you get to work hard at times but then get some easier sections and sometimes you can even coast a bit (but don't tell The Puppeteer I said that - she hates to see anyone not turning the cranks all the time!). In addition, whether you realise it or not, you are continuously moving in the saddle; standing up now and again ; changing gear; cornering etc. and this helps "spread the load" during a 2 or 3 hour ride.
When there are no hills and 95% of the road is straight, you tend to have less need to move around and there's very little opportunity to do anything except "keep peddaling". This was certainly the case on Saturday, when I did a "flat" (but windy) 45 mile ride and felt more as if I had done 60 by the time I finished. It was essentially like spending 2 plus hours on the trainer. Brutal and relentless!
The run is a similar story......
Sunday saw me heading out for a 7.5 mile run up the beach road. Perhaps foolishly I opted to grab a couple of hours additional sleep rather than get up early to beat the heat. Like the bike, running on the Outer Banks is usually over flat terrain, unless you decide to run hill repeats up and down the Wright Brothers Memorial, which is about the closest thing the Outer Banks has to a hill unless you count the bridges! I guess you could run the giant sand dunes at Jockey's Ridge, but that seems a little masochistic!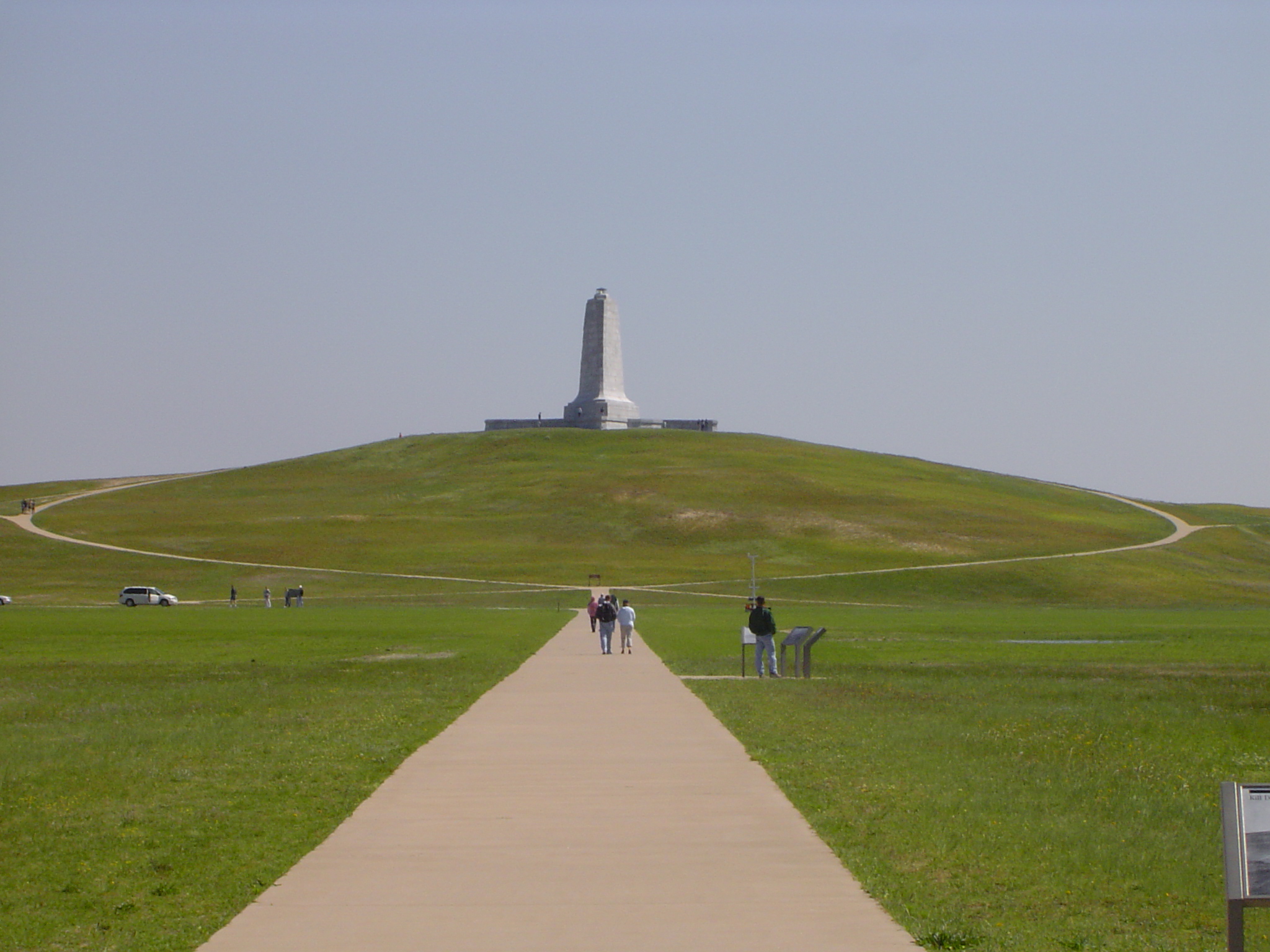 Running up this makes a nice change........
......but running this is just plain stupid!
Running up and down flat dead straight roads or paths is the toughest thing for me, especially when there's nowhere to hide from the wind and absolutely no shade from the sun. Again, the best word I can come up with is "relentless". I find myself making-up all sorts of silly games to get me to the next landmark - you would be surprised how many games you can play using the ubiquitous green trash cans that line the beach road! Unlike biking, there
are
places such as the Nags Head Woods to run trails and you can run around the Nags Head golf course, but this involves driving and I'm usually looking to leave straight from home. You can always run on the beach, of course, to change things up and I love doing this, but it becomes an altogether different workout.
So, I don't want to hear it about "training on the flat roads of the Outer Banks must be easy".... I much prefer the rolling hills of the Piedmont!