I went out and ran eight miles this morning - the first "real" workout that I have managed since Rev.3 SC 70.3. It certainly wasn't fast; my breathing is still a bit labored and I was a bit tight here and there, but at least I managed to get out there.
I'm condident that with another week to recover from this nasty bug I will be able to run the Outer Banks Half Marathon next weekend, but at this point it will definitely be just a "fun run". Anything around two hours will be fine with me considering how bad I felt just a couple of days ago.
In another sucess, I wore my new Brooks Racer ST5s this morning, with their neat new color scheme....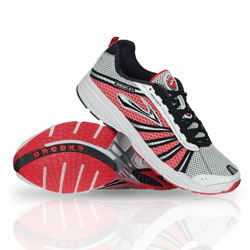 I love this shoe! Very light and with a nice wide toe box for my big ol' flipper feet. My old pair were showing signs of wear and these new ones have been sitting at home un-used for the past two weeks. Pleased that I can wear them in a bit before next weekend. They felt like slippers this morning!